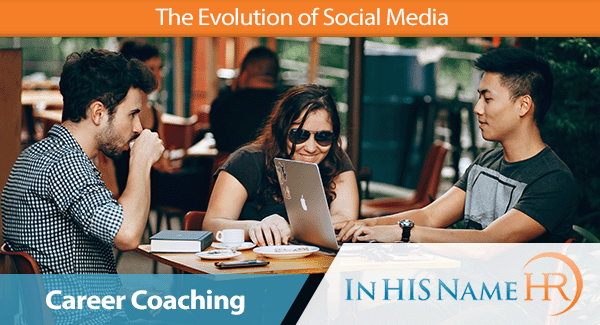 The Evolution of Social Media
The Evolution of Social Media
It's an average day for Average Joe. He wakes up, powers up his iPhone and checks his Facebook account. After scrolling through some posts, he updates his status. "Just getting ready for class," he writes. "Hope the day rolls by fast!" He then checks his Instagram, commenting on his brother's photo collage and his girlfriend's latest cat photos. After scarfing down a bagel, he posts a picture of his own. "No gourmet meal here," he captions the picture before heading out to class.
In English class, Joe's professor discusses the upcoming Academy Awards show. The professor assigns the class to pick a movie that is up for an award, watch it and then write a review. Joe goes home and takes to Twitter, trying to find out which movie has gotten the most acclaim. He at last settles on a flick. After watching the movie, he updates his Facebook status again. "Better than I thought it would be," he writes. "Hope it nabs an award."
It's dinner time, and Joe's girlfriend is coming over. He's not much of a cook, so he jumps on Pinterest to see what's cooking. After searching up a few meals, he settles on a tasty looking Greek dish. He hopes to impress his girlfriend, who doesn't know he has a Pinterest account. After dinner, Joe finishes his homework and hops on LinkedIn before heading to bed. He's not very active on the site, but his professor says it's a great way to find a job, so he's been poking around. He updates his resume, checks out some profiles and reads a couple blogs. Before shutting down his phone, he checks his Instagram once more. He is pleased to see his Greek dish of homemade hummus and falafel has made it to his girlfriend's account; the photo already has 62 likes. Joe drifts happily off to sleep.
Does Average Joe sound a bit like you?
Just two decades ago, students wrote notes and stuffed them into locker doors at school. When news broke, they picked up the old family phone and made a call. Families connected with relatives through the mail, penning letters on fancy stationery. When folks looked for a job, they scoured the local newspaper, delivered an application in person and waited anxiously by the telephone for good news. And when friends and family wanted to share photos, they took their 35 mm film to the drug store, printed them and popped them in the mail. But times have changed since then — just a bit!
These days, it seems almost impossible to imagine a world without social media. Whether it be Twitter, Instagram, Facebook, Pinterest or LinkedIn, most high school and college students have been influenced by these tools in some way or another. Social media, without a doubt, has become a powerful part of our lives. With just a few clicks of a phone or computer mouse, we can send photos, post updates and share major events with those we love. Social media, and the wide world of technology, have changed our lives for good. Like it or not, there is no going back.
Wikipedia defines the classification of social media as many different forms: magazines, Internet forums, weblogs, social blogs, microblogging, wikis, social networks, podcasts, photographs or pictures, video, ranting and social bookmarking. Technologies include blogging, picture sharing, vlogs, wall posting, music sharing, crowd sourcing and voice over IP, just to name a few. New applications, websites and software are constantly evolving and showing up on the scene. The world faces an ever-dynamic system of new startups, upgrades, changes and enhancements, making programs more sophisticated than ever. Just as Apple continues to upgrade and redefine the iPhone every couple years, social media sites constantly seek improvement too. It is an ever-evolving world, and it can be hard to keep up. With technology advancing by the day, things will only move forward, not back.
Today, over half the world now uses some form of social media, with 60 percent of people on various sites. 4.80 billion people around the world use various platforms, with 150 million new users coming online within the past year. The average person, like Average Joe, spends nearly 2.5 hours on social media per day.
So just how did social media begin? And who had dibs on it first?
You've probably never heard of it, but in March 2002, a site called Friendstr was launched by a Canadian computer programmer named Jonathan Abrams. It grew to several hundred users within a few weeks and then to over 3 million users by early 2003, becoming the world's first social media platform that engaged the mainstream. LinkedIn came along a year later, officially making its debut in May of 2003. While this went on to become a great networking tool for professionals, it was a little site called MySpace that really paved the way for social connection online. Launched by a guy named Tom Anderson (yes, that guy in the iconic white T-shirt, who became your first MySpace "friend"!) in August 2003, MySpace revolutionized the online community, particularly in the music sector. People could search for long-lost friends and lovers and reconnect. Initially, it spread like wildfire. In July 2005, MySpace was acquired by News Corporation for $580 million, and in June 2006, it surpassed Yahoo and Google to become the most visited website in the United States. At its peak in April 2008, Myspace and Facebook reached 115 million monthly visitors, but Myspace could not keep up with its newly emerged competitor. Launched by Mark Zuckerberg, Facebook soon bumped MySpace out of its number one spot.
From there, the social media revolution continued. Reddit came next, followed by YouTube. Twitter was launched by Jack Dorsey in March 2006, followed by Pinterest in 2010. Instagram made its debut that same year. Today, the younger generation prefers Instagram to Facebook when it comes to sharing photos and news. As one teen so kindly informed her mother: "Mom, Facebook is now for old folks." But with nearly 3 billion people around the world still using the site, it doesn't seem to be going anywhere.
Like Average Joe, your life has likely been impacted by social media in some way. Beyond sharing cat photos, cooking ideas and vacation highlights, it can also be a great way to network and launch your career. To learn more about the evolution of social media, order your copy of College to Career today!
For more on your voice, check out College to Career today!
The post The Evolution of Social Media appeared first on In HIS Name HR.