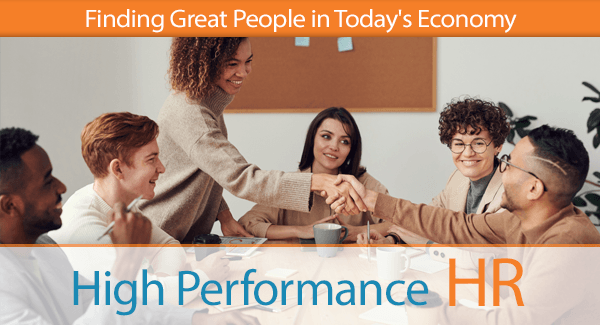 Finding Great People in Today's Economy
Want to find great people?
Running an organization is too big a task to be managed alone by entrepreneurs. To attain an entrepreneurial vision, a leader must search for and hire the best employees. Today, the rapidly developing economy has made the process of hiring talented people more significant than ever.
The role of the human resource department is substantive in organizational success, to the point where it can indeed be called the backbone of any organization. To earn a competitive advantage, firms need to train their HR teams. And when you have the right people on your team, that expense can be significantly reduced.
The pandemic has forced organizations to rethink and often readjust human resource strategies and practices, because the number of organizations that are surviving the pandemic is lower than the ones that are failing. The optimal selection of one's people is one of the main reasons why certain organizations are surviving and even succeeding, despite the challenges they're facing.
The real question is: Do you want to waste precious time and investment on making bad hiring choices? Definitely not!
There are two ways to find the best people for your organization when such uncertainty is widespread: 1) by marketing a job opening in the best possible way; and 2) by accurately identifying the right staff for your organization.
How to Market Your Job Opening
Marketing is not just about how to sell your products and/or services. No, marketing is one of the most reliable ways to select the right people to staff your organization. Let's look at how to market your job opening(s) to source the very best people for your organization.
Have Your Employees Get the Word Out
The majority of vacancies are being filled through networking. Word of mouth is one of the easiest, most cost-effective, and efficient ways through which you can market a job opening. Your employees are the best ambassadors of your healthy organizational culture. Encourage your employees to discuss vacancies on their social networks and among their friends and family.
Paid Social Media Services
Alongside using your own social media vehicles, you should also invest in paid social media channels, such as LinkedIn and others, as the power of social media advertising today is hard to ignore. Even better, develop a comprehensive social media plan that comprises paid social media channel strategies.
Job-Posting Sites
Job posting sites are a great way to effectively market your job openings, with numerous authentic, efficient job-posting websites, like Indeed.com. The more job posting sites you market on, the greater the chances of getting the right and best people for your company.
Direct Traffic to Your Website
Do a swift audit of your website to ensure your career page is easily accessible. For example, if it takes more than five seconds to open, and is not attractive enough to interest the brightest minds in your field, it's time to redo it.
If you've done all of this, well done—you have marketed the positions right. But now comes the bigger task…
Selecting the Best Candidates
Follow these useful tips on how to best search for the right people for your organization:
Identify the ideal candidate for your organizational growth plan
All too often, organizations fail to consider how the position they want to fill fits into their organization with an eye to its further expansion. Before creating a job description for a vacant post, it's critical to clearly understand the need and role of the vacancy in the future growth of your organization. If you do this right, you will create the optimal job description, one tailored to help you access the right people.
Conduct a thorough assessment of a candidate's references
Do you thoroughly evaluate every candidate's references before you hire them?
If not, why not? References are a terrific opportunity to glimpse the working behavior and patterns of your preferred candidate with their coworkers and employers, along with what they can offer to your company in terms of performance. This is too important to dismiss or cut corners. Always comprehensively assess the references a candidate provides before finalizing their hire.
Pair your interview with data
The importance of face-to-face interviews cannot be denied, but it is not the only thing you should rely on when searching for new employees. Add data to your interviews, such as technical competency tests and questionnaires that evaluate skills.  Be careful of unlawful testing, it could cost you millions. (Learn Why Here)
Gauge the interaction between your potential candidate and your team
Again, an interview is not sufficient to select the right candidate; you also should arrange for your prospective candidate to meet and casually interact with your team in a way that allows the candidate to relax and be themselves. Have one or more team members take the candidate for a tour, or for a cup of coffee or breakfast, where they can relax and be themselves. Just remember, though, that every interaction with a candidate, whether formal or informal, is legally viewed as a part of the interview process. That means your team must know what they can and cannot legally ask. The idea is to determine whether or not a candidate is a good fit with your organizational culture. Not only that; it also works in the reverse, by giving your candidate an idea of what they can expect in terms of their future coworkers and the prevailing culture.
Work with your potential candidate
Have you considered working with your candidate before confirming their hire? Add some hands-on work to the interview procedure. This is an excellent opportunity to see them in action. By encouraging them to devise ideas for a fresh project or carry out a small part of the job you're hiring for, you will get a clearer idea of how the candidate works.
Ask them what tasks they feel they cannot perform well
No one is a master of everything. Asking them where they feel their skills are weaker or need further developing will help the candidate understand your professional expectations of them and give you an opportunity to discuss what improvements and training you may want to arrange for them.
Need Help Hiring the Right People?
No organization can justify wasting monetary or non-monetary resources by investing a huge amount in training their human resource department, especially when uncertainty prevails in this current challenged economy.
Organizations operate more efficiently and cost-effectively when they are smart enough to tap human resource outsourcing and consulting services.
Don't know how to find great people? No problem!
In HIS Name HR has been offering HR consulting services with a Christian worldview for the last 10 years.
And given the critical, often unprecedented challenges raised by the coronavirus pandemic, In HIS Name HR has developed high-performance remote human-resource programs by implementing different technologies designed to promote safety, including FaceTime and Zoom. Our company also provides guidance related to HR practices to attain success and prosperity within your organization.
Concerned about the HR programs at your organization? The benefits of having a trusted partner to guide you and your team to excellence are invaluable. Contact us today. You—and your employees—will be glad you did.
Rise with us by implementing our high-performance remote human-resource programs to help find great people! E-mail us today for more information.
Mark A. Griffin is president and founder of In HIS Name HR LLC. Connect with him on LinkedIn and Twitter
The post Finding Great People in Today's Economy appeared first on In HIS Name HR.